This is a Sponsored post written by me on behalf of White Cloud for SocialSpark. All opinions are 100% mine.
White Cloud is a brand exclusively carried by Walmart and they manufacture paper towels, bath tissues and facial tissues. They have an eco-friendly line of bath tissues and paper towels called "White Cloud GreenEarth" and these products are made from 100% recycled fibers. GreenEarth products are certified by the Forest Stewardship Council.
But don't let the price tag fool you! Even if GreenEarth products are very affordable, they are of good quality. And that's actually one thing I've learned in the 7 months that I've been eco-conscious — that just because a certain product is green or eco-friendly or made from recycled materials doesn't mean that it's cheap or is of inferior quality. I have time and again been impressed by certain eco-friendly products because they're sometimes better than regular non-green products.
I started looking more into the green life back in September. I saw a cloth diaper presentation on TV and at first, it was the long-term savings that got me hooked. So I researched and researched about cloth diapers and finally decided to take the plunge.
I found that the longer I immersed myself with information on using cloth diapers and reading about how it helps the environment, the more interested I got in choosing green products. Right now, not only do I use cloth diapers for my son, I also use organic bath and cleaning products. I also save energy by using dryer balls instead of the regular fabric softeners, we reuse whatever we can, and we make sure to segregate recyclables so we can drop it off at the recycling center.
I didn't go full-on green right away. I took (and am still taking) baby steps so that every single eco-conscious thing I do becomes a lifestyle. I do admit that I still use disposables for my son every now and then. But when there's an opportunity to go green, I make it a point that I do. That way, I know that I did my part in making sure my son and the future generation will be in a live-able planet when I'm gone.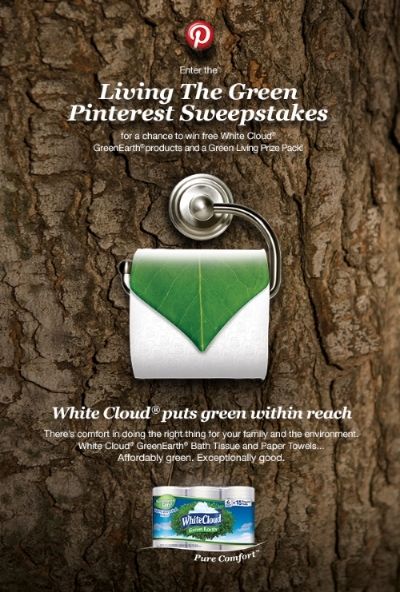 Now White Cloud is giving us a chance to win $200 worth of GreenEarth products so that we can start "living the green"! There will be 5 winners for this sweepstakes so we can have more chances of winning! To enter, we just need to:
Follow the White Cloud Pinterest page.
Create your own board entitled "Living the Green".
Repin at least 1 pin from the White Cloud "Living the Green" Pinterest board to your board. Make sure to add hashtag #LivingTheGreen in the caption.
Complete the entry form on MyWhiteCloud.com/promotions so you can get your entries in!
Sweepstakes Rules and Regulations: NO PURCHASE NECESSARY. Ends 4/30/13. Click here for Official Rules.
Want more information about GreenEarth?? Check out the White Cloud GreenEarth products page, Like White Cloud on Facebook and Follow White Cloud on Twitter! And don't forget to Find a Store Near You!