Last Saturday, I attended the Graco event at the Babies R Us store at Blossom Hill, San Jose. I assisted Ashley of Its-Fitting.com as she hosted the event and presented the Graco SnugRide Click Connect 40 to bloggers and parents. As assistant, my task was to take photos of the event and post updates on Twitter so my readers would know what's going on at the event.
I had such a wonderful time meeting and spending time with fellow bloggers from here in the Bay Area! There were 2 sessions: one at 1:00pm and the other one at 2:30pm. There were more attendees in the first session than the second. So the second session was more "intimate" and everyone had a chance to personally touch and inspect the carseat.
Here are some quick facts about the Graco SnugRide Click Connect 40:
– Comes in 2 colors: Moonstruck (as shown in the photo below) and Mena
– Can be used by babies from 4 lbs to 40 lbs — which means you can use it up until your baby is 2 years old!
– Available for purchase exclusively at Babies R Us (in-store and
online
)
– Price is $219.99
My favorite feature for this car seat is the adjustable base. There are 8 recline positions that you can adjust depending on how much leg room your baby needs, or if your baby wants to sit up or lie down and sleep. The car seat has a Simple Safe Adjust which makes it easier for parents to adjust the headrest and the harness with just one hand. It also has a Click Connect attachment that helps transition from car seat to stroller with just one click.
What really nice about this is that you can also purchase a matching stroller for this car seat. But if you already have a stroller, you need not worry! You can just purchase an adapter to make it compatible. And if you have a second car, you can also just purchase a second base so you can use the car seat in either car.
Overall, I think this is a great car seat. It can keep your child safe and it also makes our lives as parents easier because of its many features. It's pretty obvious that Graco really thought this out!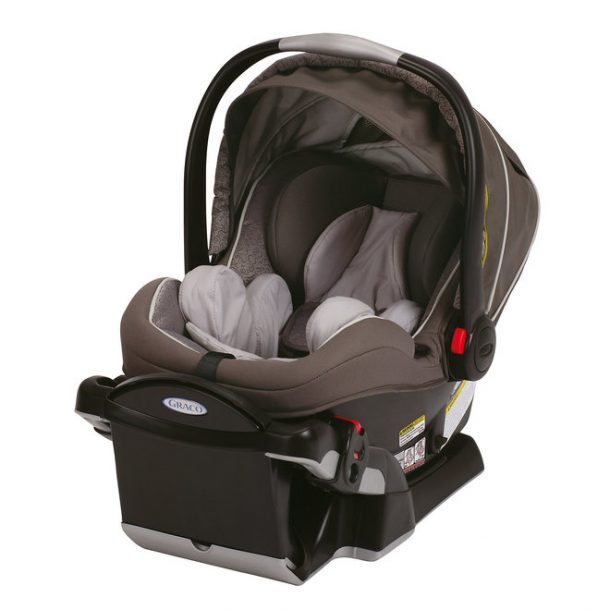 The Graco SnugRide® Click Connect™ 40 – the first and only newborn to two-year infant car seat that actually grows with your baby from four pounds all the way up to 40 pounds. The car seat is designed for a parent on the go. The infant car seat can be easily removed from the base and used as a carrier when the infant is small, providing portability and convenience so you can easily move your infant in and out of the car without disturbing them.

The American Academy of Pediatrics recently made the recommendation to keep all children in rear-facing car seats until the age of 2. Graco set out to make this product so parents can keep infants rear facing longer while still keeping them comfortable.
*This is a sponsored post written by me on behalf of Graco. The opinions and text are all mine.